Columbia Students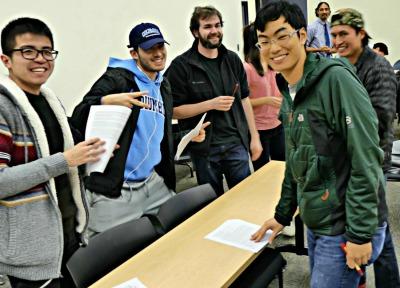 EEU (Education Experience for Undergraduates) Application
Research Experience for Undergraduates (REU)
Research Experience for Undergraduates (REU) is a  joint Materials Research Center program at Columbia University and City College of NY (CCNY) that supports outstanding undergraduates as Summer Research Fellows each year. During the program, all REU students will also be involved in workshops, visits to local industry, recreational activities, a symposium of presentations by students, and other activities. It will include training in: laboratory practices and safety; shared materials characterization tools; and scientific writing/presentations. Students attend a weekly research seminar series by Columbia, CCNY and ASRC faculty, and present results at a daylong symposium at the end of the program. The application date is TBD!
The Outreach Programs Office supports Columbia students who volunteer their time, passion, and content knowledge to inspire young STEM learners in the local neighborhood. We train undergraduate and graduate students to be effective communicators, mentors, and educators.
We also advise student groups with outreach and education as their core mission; we connect groups with local schools and educators; and we provide physical and financial support for existing groups' outreach activities and events.
To engage busy Columbia students, Outreach Programs offers one-time events for those not able to make a regular commitment, as well as ongoing programming for those who want to develop a stronger bond with young students.
To learn more about the outreach programs and get involved, visit our program page.
Volunteer Development
Training Sessions

Teaching Strategies Part 1: General Teaching and Tutoring Approaches
Training Sessions

Teaching Strategies Part 2: Co-Teaching Strategies & Best Practices
Training Sessions

Class Part 1: Classroom Management Strategies
Training Sessions

Class Part 2: Making Class Fun - Creating a Solid Lesson/Workshop activity
Training Sessions

Science Communication (MRSEC)
Training Sessions

Service Learning Identity Workshop (Office of Multicultural Affairs)
Training Sessions

Managing a Classroom
Training Sessions

Working with Diverse Students
Training Sessions

STEM Communication
Training Sessions

Team Teaching
Through a process-based approach, participants will explore an intellectual framework for research mentoring, have opportunities for reflection on mentoring skills, and a forum to solve mentoring dilemmas and share strategies for success.
The research mentor training workshop may include the following competencies:
 Maintaining effective communication
 Establishing expectations
 Assessing understanding
 Addressing equity and inclusion
 Promoting professional development
 Fostering independence
The Protection of Minors training is an online module provided by Columbia University Human Resources that all CU affiliates must complete if they are interacting with children under the age of 18. All volunteers working in an Engineering Outreach program or student group need to complete this training before engaging with children. Protection of Minors certifications last for 2 years from the date of completion.
PoM trainings can be done in-person with the Engineering Outreach office and usually take about 30 minutes to complete.  The Engineering Outreach office can schedule group and individual trainings throughout the year. Email [email protected] to schedule a time to complete the training.
Volunteers who are entering K-12 schools on a regular basis (attending a school at least three times in a year) need to go through an additional layer of clearance before engaging in service. Regular school-based volunteers must complete fingerprinting with the NYC Department of Education. Fingerprint clearance remains valid indefinitely and only needs to be completed once.
Outreach Programs arranges an on-campus fingerprinting session at least once a year.