Sci-Inspire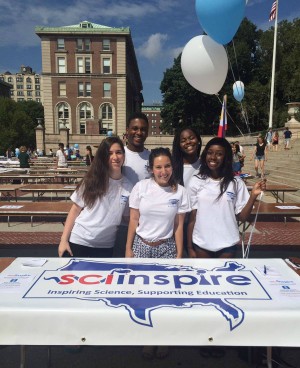 Sci-Inspire works with Columbia Engineering to connect volunteers with local K-12 schools. This school-based program supports STEM education and collaborates with other student groups on campus to train volunteers for educational and outreach activities, as well as to screen (fingerprint) them in compliance with the NYC DoE. Sci-Inspire cultivates an active and vibrant STEM outreach community and aims to boost science attitudes and aptitudes in young learners.
Columbia undergrad and grad students can volunteer by emailing the e-board at [email protected].
Get Involved
Interested in having your school host volunteers?
If you have not yet worked with Sci-Inspire and Outreach Programs email [email protected] to become a partner school.
Columbia undergraduates and graduate students can volunteer at local K-12 schools.
For more information please contact sciinspirecu@columbia.edu.
Columbia Faculty can also volunteer at local K-12 schools and involve Sci-Inspire in their grant proposals.
To learn more contact [email protected].