Columbia Space Initiative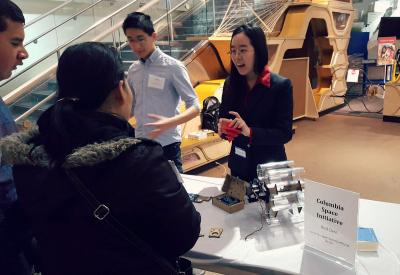 CSI's mission is to promote interest in space news, the space industry, and the impact of space on a social level. Various teams that participate in a Micro-gravity NASA competition, outreach, high-altitude balloon engineering, and rocket engineering.
---
Outreach Events:
Participation in Kid's Week
Space presentations in K-12 schools
Get Involved
Columbia Space Initiative offers in-school presentations to local schools regarding their experiences as engineers in the global community. To have CSI present at your school email [email protected].
Columbia undergraduate and graduate students participate in teams focusing on different topics regarding space-based programming. To join the club email [email protected].
Sign up for their newsletter here.
Our Columbia Space Initiative is launching a science experiment aboard the International Space Station next month. Selected as 1 of 5 experiments by NASA's "Student Payload Opportunity With Citizen Science" program, the group has designed an experiment to study bacterial resistance under microgravity conditions. And freeze the state of its DNA before it enters our atmosphere. Bacteria on the ISS? Yes, the ISS is a hermetically sealed closed system, subjected to microgravity. And that's considered an "extreme environment" where microbes survive and thrive. There are plenty of stowaways. The group will then work with STEM groups to study the result and ultimately come up with better antibiotics. Here's our introduction to the mission. In upcoming segments we share more on the team and the technology.